hots
訂閱文章
Combining the integration of Bike, Bus, Metro and Walk (BBMW) with transit-oriented development, demand management and integrated pricing schemes, this paper presents an eco-mobility equation which outlines how developing cities can improve their transportation network. Successful implementations and potential applications of information and communication technologies for demand management and multimodality are also proposed and discussed.
An Eco-Mobility Equation
In terms of urban development, the following characteristics differentiate developing cities from their developed counterparts: extremely high population density, dramatic motorization, mixed land-use pattern, mixed traffic flow pattern, informal public transport, inefficient enforcement and high fatality.This paper identifies the seven most important factors in achieving greener and more sustainable mobility, and charts their relationship in the eco-mobility equation below
:
EM=[(TD+AM+ TM +GT + IP)S]L 
EM, or the effectiveness of implementing Eco-Mobility, may be manifested as the reduction of travel delays, emissions, and accident rates. This equation identifies a horizontal relationship between five key eco-mobility strategies, while recognising the exponential potential of both stakeholders (S) and leadership (L). The five key eco-mobility strategies are
TD: transit-oriented development;
AM: active mobility (non-motorized transportation);
TM: transport management;
GT: green transport (BBMW policy);
IP: Integrated pricing schemes.
These five horizontal elements can be understood as the 'push and pull' factors between motorized vehicles, public transport and non-motorized transport modes.
Expanding the Equation
TD, or transit-oriented development, represents the development of public transport terminals as easy access points that the general public can reach by foot, bike or bus.
AM, or active mobility, represents the promotion of safe and friendly environments for cycling and walking to work. In many developing cities, this already represents a large proportion of the population. A greater potential is foreseeable and can be accessible through well-designed public bike-sharing systems, and more fundamentally safe, comfortable, and friendly walking and cycling environments. It is worth noting that wheelchairs and lightweight mobility scooters for the disabled or elderly should be considered within active mobility and have gained increasing focus in recent years, as they are related to the very basic mobility rights for every individual in a healthy society with integrity.
The importance of TM, or transport management, is not limited to traffic management and real-time dynamic route planners. Parking management is also a crucial element in medium and large developing cities. Vehicles that cruise for parking, if not well directed and managed, can account for over 30% of road traffic in downtown areas during peak times (Barter, 2013). This results in long cruising times for individual drivers, traffic congestion, unnecessary pollution and other costs.
GT, green transport, and the integration of Bike, Bus, Metro and Walk (BBMW), is aimed to improve active mobility and public transit systems with more integrated and convenient services (Chang, 2006). However, the major managerial challenge arises from the perspective of how to efficiently implement transit-oriented development and apply ICT to achieve the seamless services of BBMW.
Comparatively, IP,or integrated-pricing, may be the most complicated of the eco-mobility strategies. The advancement of electronic transaction technology allows more flexible and sophisticated pricing policies over the use of both public transit and private vehicles. The objective of IP is to reflect the true cost of using each transport mode. To impose the true cost on using private vehicles, which is higher than what travelers currently pay, has never been a simple task. People tend to address their own concerns from an individual perspective, but ignore system-level needs. It has been generally observed that the public is sensitive to paying more out-of-pocket, but may also adapt to the change and welcome it later on. Hence, it is for decision-makers and practitioners to take time and thoughtful efforts to communicate, thereby letting travelers know how they can choose to benefit both the society and themselves. IP has also the objective of implementing congestion pricing (Barter, 2005). It is expected that motorized vehicles need to pay for social costs including congestion, air pollution, noise and safety.
The Importance of Stakeholders and Leaders
The five eco-mobility strategies discussed conceptually define the general directions of sustainable mobility and the possibility of a better society to which they may lead. However, the successful fulfillment of these eco-mobility strategies is exponentially influenced by the involved stakeholders and leadership. Therefore, the behavior of stakeholders, S, in the proposed equation indicates the importance of how the interests between different stakeholders are coordinated, as eco-mobility related projects usually involve certain levels of Public-Private Partnership (PPP). The private sector is generally considered more efficient and flexible in attaining project objectives that are not necessarily consistent with public interests. The behavior of stakeholders has to be shaped based on well-defined objectives of EM implementation, which maximize the benefits of both sectors, thereby motivating reasonable efforts to pursue common and respective interests.
Above all, leadership, L, is the key factor, albeit abstract, for how an eco-mobility related project can be implemented, especially for many developing countries that are currently undergoing different stages of social development and reformation. Both the government and citizens may still be learning to balance the conflicts between various aspects of social development. Studies from theoretical and practical perspectives have extensively discussed the traits required for a leader. In the context of eco-mobility in developing cities, leadership may translate into holistic vision, systematic thinking, inspiring resolution, and a willing heart to listen to and understand the needs from different perspectives of a society.
Both S and L are located as the exponents in the proposed equation, which specifies their decisive effects. Leadership and a well-coordinated relationship between stakeholders can trigger strong momentum in changing traveller behaviour towards greener transportation and social development, resulting in an effective implementation of eco-mobility beyond expectation.
Other Important Issues
"Time" is an important hidden factor in the proposed equation, as the implementation of EM is also an interactive process involving the change of traveler behavior and land-use patterns. In the future, Intelligent Transportation System (ITS), based on the advancement of ICT, leads to the possibility of smart mobility that is more efficient in travel time and energy savings. The rapid penetration of smartphones redefines how traffic/travel information can be provided or shared pre-trip or en-route in a real-time context. This considerably facilitates the match between demand and supply, thereby enabling better use of available transport capacity. For instance, a traveler can easily check the taxi closest to him/her or the transit route with the shortest waiting time.
It is predicted that 80% of megacities may form in Asia (UN, 2013), and it is foreseeable that many of them may be located in developing countries. How to align the development of transport systems with land-use patterns to attain better urban design will be a critical issue for transport planners and managers. Following the notion of TD, one example can be "transit villages". Such a deployment scheme utilizes public transit systems to relieve over-concentrated population and activity patterns, and within each village, short-distance transit services can be provided to cover the last or first-mile traveling. During their urbanization and modernization transitions, developing cities may undergo drastic remodeling, which may be the best time to begin planning with eco-mobility goals in mind.
Conclusions and Future Directions
Human society is testing the planetary limit with excessive resource consumption. As growing economies heavily rely on fossil fuels and unconstrained emission, it is critical to begin adopting strategies that balance this skewed development and return to a more sustainable course. This paper focuses on the status quos of transportation systems in developing countries and discusses the associated problems from a green transport perspective. We need to go back to the fundamentals of the eco-mobility problem, that is, to manage transportation demand as a function of revealed traveler behavior. Only based on an understanding of traveler behavior in response to the implemented strategies, is it possible to evaluate and adapt eco-mobility strategies to improve their effective implementation and to further educate travelers. Moreover, the investigation of an eco-mobility cannot be separated from the context of land-use modeling – which represents local features – or without knowing the city's historical course of development. The implementation of EM implies the evolution of a society, a dynamic process that re-sculpts the scenery and reshapes its value. We perceive the important role of EM in sustainable development at this critical point for developing cities, and it is worth rigorous research to contribute to opportunities of a better future.
Dr. Chang is a professor at National Taiwan University. He has served as advisor to the Mayor of Taipei City since 1994. His research focuses on public transport, transport economics, advanced public transit and ITS. Professor Chang is one of the pioneers promoting green mobility in developing cities, including China and India. His philosophy on green transport and sustainable mobility is the integration of BBMW, namely Bike, Bus, Metro and Walk.

Yu-Ting Hsu is an assistant professor of Civil Engineering at National Taiwan University. He received his Ph.D. degree from Purdue University, and M.S. and B.S. degrees from the National Taiwan University. His research interests lie in traveler behavior, transportation system analysis, spatial network modeling, and evacuation problem.
第24屆智慧運輸世界大會(ITS World Congress)今天在蒙特婁落幕,台灣積極爭取2022年主辦權,交通部次長祁文中相當有信心,希望讓世界看到台灣智慧運輸系統發展成果。
2017智慧運輸世界大會10月30日至11月2日在加拿大蒙特婁舉行,今年主題為「下一世代整合運輸:驅動智慧城市」,全球超過100個國家或地區、數千人與會。
台灣由祁文中、台北市副市長林欽榮、中華智慧運輸學會理事長張永昌等,率領80餘人龐大代表團與會,與各國代表就人工智慧運輸系統等深入交換意見並參與論壇。
台北市政府與中華智慧運輸協會在會場設立台灣ITS館,展示北市智慧運輸及智慧城市建設願景,多家台灣廠商也利用機會呈現ITS整體解決方案及建設成果,爭取國際合作機會。
智慧運輸世界大會明年輪由哥本哈根主辦,5月也將在日本福岡宣布2022年(第29屆)主辦權,包括台北、中國大陸蘇州和南韓首爾等3城市已正式提出申請,並在今年大會提出申辦計畫簡報。
祁文中接受中央社記者訪問表示,台灣的簡報獲得與會者高度評價,遠勝其他競爭者,他對獲得主辦權相當有信心,期盼讓世界看到台灣發展智慧運輸系統的努力。
祁文中同時感謝主辦單位及加拿大政府讓台灣順利參與今年大會,也讓台灣有機會展現智慧運輸成果。交通部已決定未來4年投入30億元推動台灣ITS產業發展,也願意成為ITS廠商窗口,相信以交通部的經驗及專業絕對可以協調相關部會共同達成目標。
During the months of September and October, ECF President Manfred Neun was invited to take part in various transport and mobility events in Asia, and we take this opportunity to report on the stages of his Asian trip focused around the future of connected transport and cycling tourism.
First, he spent ten days in Taiwan participating in the International Symposium on Travel Demand Management (TDM) that took place between 26 and 29 September 2017. The symposium series has been running for 20 years, and is organized mainly for TDM researchers and professionals with the aim to foster more efficient transport solutions mainly in public transport, but now implementing increasingly greener and healthier mobility practices. This event brought together the domestic and international TDM research community to brainstorm ideas for the present and future of TDM practices for improved sustainable mobility. While TDM is still work in progress, more and more cities are becoming involved and particularly interested in the issues TDM addresses and solutions it proposes.
Manfred first participated in a panel discussion on Transit Oriented Development (TOD), and also held a presentation as part of Session II of the Symposium, dedicated to Active Mobility. He highlighted all the advantages of nowadays connected mobility if consequently combined with active mobility, and for that purpose he proposed the term fusion mobility; a way to connect advances in communications with active mobility. Since one of the main problems in discussions about Intelligent Transport Systems (ITS) is that the opportunities and advantages in connecting transport modes are well known (inter-/trans-/multi-modality), but not used well enough, Manfred suggested this problem could be better tackled by prioritizing active mobility, and no argument was raised against it. Bigger connection of different modes of transport, putting active mobility first and combine it with advances in communication could efficiently solve many issues, and thus fusion mobility could be the right answer.
Manfred also participated in the EcoMobility World Congress 2017under the subtitle "Livable, Shared, Intelligent", taking place between 2 and 4 October 2017 in Kaohsiung, Taiwan, as part of the EcoMobility World Festival. The conference is an annual event organized by ICLEI - Global Cities Network, specifically dedicated to sustainable development. The festival was a great opportunity for city governments to experiment with creative ecomobile solutions, with the aim to create more livable cities. It also gave residents the opportunity to experience how integrated, socially inclusive and healthy transport options can improve their quality of life.
Manfred participated in three sessions of the Congress, first one being Safer And Healthier Cities For Us And Our Children aimed to address excessive dependence on conventionally powered motor vehicles that worsen the air quality increasing the risk of respiratory illnesses, as well as discourage physical movement. Manfred's presentation was titled Active mobility for a healthier and more equitable society, and his ambition was to once again focus on the positive impacts of active mobility, this time specifically linked to positive health outcomes. Another participation was in a session Kaohsiung EcoMobility Dialogues (KED) #1 subtitled People, Pedals, Parks, where he held a keynote speech with a title City on a bike. Manfred was also one of three speakers in a Young Professional Workshop, targeted towards young researchers and professionals with an interest in sustainable urban mobility and the urban environment to discuss the latest trends and outlooks in shared mobility.
After a productive stay in Taiwan, it was time for Manfred to continue his Asian tour in Japan. He was invited to visit the beautiful lake Biwa, the biggest lake in Japan, north east of Kyoto in Shiga Prefecture, renowned for great touristic cycling opportunities. The starting point of the trip was the visit to Shiga Prefecture, where Manfred was first warmly welcomed by the governor of the prefecture, Mr. Taizō Mikazuki. After that an official meeting took place, organized by the friends from Taiwan; Chung Hua University, that is also running a collaboration on cycling tourism with Shiga, and National Taiwan University (NTU) that hosted the previously mentioned TDM Symposium.
The highlight of the visit was a two-day cycling trip around lake Biwa, some of it done under the rain, which, however, did not spoil the experience. As part of the visit Manfred was kindly asked to evaluate cycling abilities in the region, and he is currently working on the trip evaluation. A first draft with recommendations based on the already established standards of the EuroVelo will be out soon, and the collaboration with Shiga Prefecture will continue in the future.
On a long term perspective, these visits and collaborations had all aspects of global cycling advocacy in, from cities and regions collaborations, academic network development – as Taiwan is participating actively in S4C since its launch in 2010 – and also industry and cycle tourism engagements. On the academic side a significant step was already done in 2014 when Prof Jason Chang from the NTU launched the Active Mobility Forum, and overall it was the impact of a very successful Velo-city Global 2016 in Taipei where we can see the various seeds growing now.
By SIOK HUI LEONG
It was 3am when Helen Chen called it a night after hanging out with friends in downtown Taipei. The buses and trains had stopped running and Chen doesn't own a car. Unperturbed, the 34-year-old strolled to a bike-share docking station two blocks away, grabbed a bike with a quick tap of her EasyCard (stored-value smartcard) on the automated kiosk, and pedalled the 5km distance home. She reached home safe and sound in barely 30 minutes and the bike rental cost her NTD10 (RM1.23).
"I ride YouBike (the bike-share's name) everywhere. It's convenient and cheap," says Chen, a Taipei-based product designer who grew up in Sydney. Chen echoes the sentiments of over four million registered users of YouBike in Taipei today.
Launched in 2009 with a modest 11 stations and 500 bikes, YouBike now has 214 stations with 7,000 bicycles, strategically placed next to MRT stations, bus stops and tourist attractions. To date, the bike-share scheme has surpassed the 40-million rental mark, logs an average of 52,000 trips a day with a turnover rate of 8.06 trips per bicycle.
The city's bike lane network totals 498.38km, including bike paths, dual-use sidewalks and river bikeways. Downtown Taipei boasts a 58.93km-network of cycling lanes.
image: http://cdn.star2.com/wp-content/uploads/2016/02/str2_cycletaipei_annmarie_3_lead.jpg
Taipei City hosts the international cycling conference, Velo-City Global 2016.
Beijing, Shanghai and Seoul sent delegations to suss out Taipei's bike-share programme and Singapore's Land Transport Authority had planned a study visit this month.
When Taipei won its bid to become the first Asian city to host the premier cycling conference Velo-City Global 2016, YouBike's success was credited as one of the main factors.
A 2014 report by European Cyclists' Federation on Taipei's cycling achievement noted that cycling mode share (percentage of total trips done by bicycle) in Taipei is up 30%. It now stands at 5.5%, a figure yet to be matched by many European capital cities (in cycling utopias like Copenhagen and Amsterdam, however, bikes account for more than 50% of trips in the cities). The usage figure for YouBike matches the world's best, and women make up 50% of the cycling population – a gauge of the city's cycle-friendliness.
Cities usually struggle to attract women cyclists due to lack of safe, segregated cycle networks, according to ECF, also the founder of Velo-city conference.
"YouBike helped us overcome our urban mobility issues like traffic congestion, air pollution and road safety," says Anne Chung, the commissioner for Taipei City Government's Department of Transportation (DOT).
"With an efficient Taipei Metro (MRT) and bus systems, we can leverage the use of public bikes for the last mile (of commuters' journeys)."
Taipei plans to increase its YouBike fleet to 400 stations and 13,000 bicycles by 2018, Chung added. And the city wants to complete an additional 192.9km of bike lanes and facilities by 2019. Aside from Taipei, YouBike has also been implemented in New Taipei City, Taichung City and Changhua Country.
image: http://cdn.star2.com/wp-content/uploads/2016/02/str2_cycletaipei_annmarie_5.jpg
Public bike parking in front of National Taiwan University.
Across the globe, more than 700 cities in 50 countries have implemented bike-share systems (The Economist, Sept 5, 2015). Paris's Vélib and Barcelona's Bicing bike-share systems are de facto role models for aspiring bike-sharing cities although the world's largest bike-sharing schemes (not necessarily the most successful) are in Chinese cities of Hangzhou and Wuhan. New York-based global non-profit Institute for Transportation & Development Policy (ITDP) rates the success of bike-share systems based on criteria like station density – 10-16 stations for every square kilometre, bikes per resident, coverage area, quality bikes (practical and fit for use) and easy-to-use stations. From New York City to London and Rio de Janeiro, these cosmopolitan cities are looking for solutions for urban issues.
"A great bike-share system indicates that the city is thinking progressively about transit, the environment, and quality of life," sums up ITDP's Director of National Policy and Project Evaluation Colin Hughes.
Rome wasn't built in a day
But like most Asian cities experiencing rapid, economic growth post 1970s, Taipei underwent a boom in construction of highways and roads. As income rises, cars and motorcycles became the preferred form of transport. To ease traffic congestion, a bus lane network was initiated in the early 1990s and the first Taipei Metro line opened in 1996.
Today, Taipei boasts a comprehensive bus network and an efficient MRT system with five lines and 117 stations covering 136.6km. Trains run frequently (every three minutes during peak hours), are punctual and rarely break down. And the EasyCard, a smartcard ticketing system, can be used on all public transport.
image: http://cdn.star2.com/wp-content/uploads/2016/02/str2_cycletaipei_annmarie_6-e1456054617218.jpg
Professor Jason Chang
"Before we even talk of putting cycling into the equation, we need to talk about the whole public transport system," says Dr SK Jason Chang, the director of Public Transport Research Center and Professor of Transport Systems at National Taiwan University.
In short, for bike-share systems to work and to encourage commuters to cycle the first or last mile of their journey, they need to be able to transfer seamlessly between the various modes of public transport.
A strong support from the central government and collaboration with the bicycle manufacturing industry are also vital ingredients for the scheme to work, Chang added. The city government forked out funding for the bike-share infrastructure and Giant Manufacturing Company designed and supplied the bicycles, and operates the scheme. Taiwan's Environmental Protection Administration (EPA) subsidised the first 30-minute rental for the bikes.
"The trial project with the first 500 bikes was received poorly with a turnover rate of one bike per day or week," admits Chang who researches on public transport, transport economics and advanced public transit.
Limited bikes and stations – only available in the Xinyi business district, and the complicated rental procedure (users need two valid IDs and credit card to register), led to the poor response.
"We asked Eric Britton (the sustainability activist and founder of World CarFree Day) for his advice on the bike-share project when he was in Taipei for CarFree Day in 2011, and his answer was: 'expand, expand, expand!' " recalls Chang.
"So once registration was simplified – using EasyCard and mobile number, and the fleet was expanded to 4,545 bikes with 136 stations across the city, the number of users shot up," explains Chang, who advocates people-centric cities. Apart from being advisor to the Taipei City Government for 22 years, Chang is one of the pioneers promoting green mobility in developing cities like China and India.
Car-Free Day has been an annual event in Taipei since 2001.
"Taipei residents get a feel of what it's like to enjoy the streets, free from motorised traffic," says Chang, listing the benefits of Car-Free Day.
"It's also a good time for the city government to evaluate its progress in transforming into a people-centred environment, and an opportunity to announce its vision and future objectives.
image: http://www.star2.com/wp-content/uploads/2016/02/str2_cycletaipei_annmarie_7.jpg
Lifts for bicycles at MRT stations. Folding bikes in bags are allowed to access to the MRT stations but full-sized bikes can only get on the trains on the weekends and public holidays.
image: http://www.star2.com/wp-content/uploads/2016/02/str2_cycletaipei_annmarie_10.jpg
Bike parking at an MRT station.
Since the late 1990s, Taiwan's central and local government started promoting cycling tourism and recreational cycling. Millions of dollars have been poured into bicycle infrastructures for the construction of a nationwide bike network and river bikeways. Taiwan Tourism Bureau's dogged efforts have put the country's cycling tourism on the world map with events like the annual Taiwan Cycling Festival. Lonely Planet lists Taiwan on its "Best in Travel 2012" list, saying the country is "best seen on two wheels".
Last December, Taiwan launched the 968km round-island bike network with 122 rest areas, dedicated cycling paths, shower facilities and multiple drop-off locations for rental bikes.
When President Mayor Ma Ying-jeou was elected into office in 2008, he announced a NTD30bil (RM3.7mil) funding for Energy Savings Emission Reduction Policy, which triggered a boom in green transportation and cycling became all the rage.
"All these combined factors made the bike-share programme take off," says Chang.
However, grassroots cycling advocacy hasn't really taken off in Taiwan until now. A group of passionate cycle-commuters is in the midst of registering an NGO to plug bicycle-commuting, road safety and city races.
To date, most of the advocacy work has been led by Cycling Lifestyle Foundation, a semi-commercial organisation funded by Giant – the world's largest bike manufacturer by revenue. Based on Giant founder King Liu's vision: "to promote cycling as part of our lifestyle," the Foundation works closely with government and policy makers to promote cycling as a mode of recreation and sustainable transport.
image: http://cdn.star2.com/wp-content/uploads/2016/02/str2_cycletaipei_annmarie_15.jpg
Bike infrastructure-like ramps at the river bikeway.
Founded in 1989, the Foundation started out creating and running cycling events and island-wide cycling tours to get more people cycling. And when Taipei city and New Taipei City (the metropolitan areas of Taipei) constructed the river bikeways, Giant donated free bikes to help kick-start recreational cycling. Today, the Foundation operates 15 non-profit rental bike stations with over 4000 bikes along the bikeways in New Taipei City.
"The income from the rental service is used to maintain the bikes or buy new bikes when we retire the old ones," says Vicky Yang, the CEO of Cycling Lifestyle and Liu's daughter. "We just want city folks to experience the joy of cycling so it becomes a lifestyle."
When then Taipei Mayor Hau Lung-bin wanted to initiate the pilot bike-share programme in Taipei, the Foundation sent an entourage of Giant bike technicians and Yang to Paris to learn about the Vélib bike-share scheme in 2008. Over the years, the Foundation has invited government officers on all-expense paid study trips abroad to check out best cycling practices.
"Now that recreational cycling is well established, we are promoting cycling commuting to complete the last piece of the puzzle," says Yang who has the ear of the city and central governments. "We need more bicycle paths in the city so more people will be willing to commute by bicycle. More cyclists mean safer streets and less traffic accidents."
Room for improvement
The conflict between cyclists, pedestrians, motorists and motorcyclists is the perennial issue dogging cycling-commute within the city. Bike lanes are placed on shared sidewalks or traffic slow lanes, and many of the lanes, including the river bikeway, lacks connectivity.
image: http://cdn.star2.com/wp-content/uploads/2016/02/str2_cycletaipei_annmarie_13.jpg
Cyclists and pedestrian have to watch out for cars and scooters turning at intersections although they have the right of way.
In a recent survey by the DOT on cycling safety, nearly 40% of pedestrians complained about cyclists who ride on arcades (five foot way) or sidewalks, and 20% of respondents abhor cyclists who weave in and out of traffic or ride outside of designated cycling lanes.
"Our population is dense, we just don't have enough room to accommodate infrastructures for different modes of transport. People have to learn to respect and live harmoniously with each other," admits Commissioner Chung. Taipei has 2.7million people living within a 271.79sqkm space, with a population density of 9,944 residents per sqkm (Kuala Lumpur's population density is 6,890 people per sqkm).
"We will continue to run campaigns to educate people about respecting each other's right of way and road safety."
One of the city's main priorities is to reduce the number of cars and motorcycles on the road, Chung said.
"Our vision for Taipei city is zero traffic death," adds Chung, whose preferred mode of transport is YouBike and she doesn't own a car or motorcycle.
In Taipei and the metropolitan areas, motorcycles outnumber cars (about 3.1million motorcycles versus 1.5million cars by the end of 2014) and account for 54.1% of total traffic fatality within Taipei city. Over the years, the city has reduced parking spaces for motorcycles, eradicated free parking for cars and widened the sidewalks for pedestrians and bike lanes.
Motorcycle ownership in Taipei has dropped 13% in the last eight years. However, there is no study yet to show the correlation between the success of Taipei's bike-share scheme and the decrease of cars and motorcycles in Taipei (from 2011 and 2014).
image: http://cdn.star2.com/wp-content/uploads/2016/02/str2_cycletaipei_annmarie_2.jpg
Restroom facilities for cyclists at the riverbikeway.
For YouBike commuters like Chen, the usual gripes are shortage of bicycles for rent and shortage of docks to return the bikes to (due to high volume usage). But smartphone users can download a free app that maps out YouBike station locations across the city and the availability of bikes. Theft and vandalism are a non-issue due to the bike's clever designs.
But in April last year, the city removed the subsidy for the first 30-minute free YouBike rental. Users have to pay NTD5 (RM0.60) for the first 30 minutes and NTD10 per 30 minutes within the first four hours and the rate increases with longer usage. The pricing structure is designed to encourage short trips and help maximize the turnover of the bicycles.
"After implementing the charges, we save an average of NTD10.37mil (RM1.29mil) per month in subsidies," says Chung. The average subsidy covered by the city from April to September 2015 was NTD7.46mil (RM934,000) per month.
"We strive to make YouBike financially independent by 2019."
However, Chang feels that the city should create incentives to entice more cycling commuters.
"The city should thank you for riding a bicycle during peak hours because you are helping to reduce congestion and pollution," says Chang, an avid cyclist and owner of four bicycles. "Of course, we need a sustainable financial scheme for YouBike because someone has to pay for it. But we also need to encourage more people to commute with their own bicycles."
Forty-eight percent of Taipei's population now uses public transport and in the Taipei metropolitan areas, the number is lower at 30%.
"The ideal figure should be 60%," says Chang.
A global conference like Velo-city is a good opportunity for Taipei and Taiwan to explore the challenges of transforming a "motorcycle city" into a green mobility city, Chang added.
"We can identify how to deal with the challenges. And with the help of local and international experts, come up with a clear vision to make it happen.
"It boils down to strong political will, very good design, infrastructure, management, financial scheme and integration."

Read more at http://www.star2.com/living/2016/02/23/taipei-shaping-a-cycle-friendly-city/#IE5iBySTMCgzRvqc.99
Staff of NTU's Advanced Public Transportation Research Center and representatives from India who took part in a sustainable mobility seminar pose for a group photo Feb. 9 at Daan Park in Taipei City. (Courtesy of APTRC)
The 2017 Sustainable Urban Mobility Program: Leaders in Urban Transport Planning and Management seminar was held at National Taiwan University in Taipei City from Feb. 9-10, helping foster links between Taiwan and India officials and industry professionals in line with the government's New Southbound Policy.
A key plank in President Tsai Ing-wen's national development strategy, the New Southbound Policy seeks to deepen Taiwan's agricultural, business, cultural, education, trade and tourism links with the 10 Association of Southeast Asian Nations member states, six South Asian countries, Australia and New Zealand.
The annual seminar is part of the Sustainable Urban Transport Project jointly initiated by the World Bank, India's Ministry of Urban Development and the Center of Excellence in Urban Transport at Center for Environmental Planning and Technology University in Ahmedabad. The SUTP aims to promote environmentally sustainable urban transport in the South Asian nation and improve the usage of environmentally friendly transport methods through demonstration projects in selected cities.
Launched in 2015, the program is organized by the Advanced Public Transportation Research Center at NTU in conjunction with the Center of Excellence in Urban Transport at CEPTU.
The two-day seminar was tailored to advance the expertise of urban transportation professionals and high-level government officials. It included workshops and discussions encompassing topics such as Taipei's integration of intelligent transportation systems and sustainable transportation with urban development, as well as the city's experiences regarding the establishment and management of the YouBike public bicycle rental system.
Tours were arranged to various YouBike facilities so that seminar participants could gain a more practical understanding of the platform.
According to Taiwan representative to India Tien Chung-kwang, the program, in line with the New Southbound Policy, seeks to not only strengthen economic and trade ties between the two sides, but also provide opportunities for Taiwan to help India cultivate talent in various fields.
A total of 45 representatives from India's public and private urban transportation sectors attended the seminar, including officials from the Ministry of Urban Development, Central Railway and Ministry of Transport of West Bengal. (SCK-E)
Write to Taiwan Today at ttonline@mofa.gov.tw
來源:
http://www.taiwantoday.tw/news.php?unit=10&post=111241
台大先進公共運輸研究中心主任張學孔(面向人群舉起 雙手者)2015年11月在台北市為參加首屆印度都市交通 領袖課程的印度交通
領袖們解說台北交通建設發展,第 2屆課程9日再於台大展開。 (台大先進公共運輸研究中心提供) 中央社記者康世人新德里傳真 
發稿時間:2017/02/03 14:12
最新更新:2017/02/03 14:47
(中央社記者康世人新德里3日專電)配合政府新南向政策,搭配印度政府今年新預算案擴大交通等基礎建設投資,台灣大學先進公共運輸研究中心9日將在台大舉辦印度都市交通領袖課程,為印度培育智慧交通人才。
台大先進公共運輸研究中心主任張學孔今天告訴中央社記者,印度都市交通領袖課程是由台大先進公共運輸研究中心與印度CEPT大學卓越都市運輸中心從2015年起合作,執行世界銀行與印度都市發展部(Ministry of Urban Development)合作推動的計畫。
課程將於9、10日兩天在台大舉行,是由台印合作舉辦的第2屆印度都市交通領袖課程。
上次課程是在2015年11月,同樣在台大舉辦,共有43名來自印度中央與地方交通部門領袖參加,兩天密集專業課程與相關參訪,讓印度交通領袖收穫良多,成果豐碩,因而再度舉辦。
在本屆課程中,將著重運輸整合的捷運系統2.0(Metro 2.0)、TOD(以公共交通為導向的都市發展)在台發展狀況與經驗、公共自行車分享系統、智慧運輸和永續交通、智慧公車等多項智慧交通與永續都市交通議題進行研討與專題演說,同時安排公共自行車系統YouBike等相關參訪。
促成此事的張學孔表示,這項課程是為都市交通領域專家與高階決策者所舉辦的能力建設計畫,目的是使參與者能加強都市運輸實務與國際視野,在最後一個階段提供參與者東亞城市考察的機會,並安排專業課程與參訪。
這次課程將有來自印度公共工程部、國家地區規劃委員會、中央鐵路局、城市規劃局、都市發展局及西孟加拉省(West Bengal)運輸部、齋浦爾(Jaipur)地鐵公司、班加羅爾(Bengaluru)都市交通公司等45名印度中央與地方各單位交通領袖參加。
中華民國駐印度代表田中光表示,新南向政策不僅僅是強化台印雙邊的經貿與投資來往,更重要的是台灣願意根據印度的需求提供人才培訓機會,讓印度能有更多專業技術人才協助印度的經濟與社會發展。1060203
來源:
http://www.cna.com.tw/news/ahel/201702030164-1.aspx
      「第23屆智慧運輸世界大會」(23rd ITS World Congress Melbourne 2016)正在澳洲墨爾本召開,並於當地時間11日上午9時舉行頒獎典禮,
台灣高鐵獲頒2016年ITS世界大會名人堂產業成就獎(ITS World Congress Hall of Fame Industry Award),由鄭光遠執行長代表高鐵公司與交通部王國材政務次長,共同接受此一世界級獎項殊榮
! 
由產、官、學界百餘人組成的台灣代表團以及三千多位國際代表在場觀禮,見證台灣軌道產業高度智慧化卓越成就、領先國際的榮耀時刻
。
       鄭光遠執行長表示,台灣高鐵這次榮獲ITS世界大會名人堂產業成就獎,全體同仁都感到無比興奮與榮耀。高鐵自興建營運以來,漸進深化運用智慧運輸系統科技,創造快速、便捷、舒適的旅運服務,為台灣串聯美好新生活。未來,高鐵公司更將運用大數據、物聯網等前瞻科技,     打造「高鐵智慧運輸旅客服務雲」及「高鐵智慧運輸營運管理雲」等智慧運輸雲端科技,希望提升營運安全及服務品質,更為旅客帶來「搭高鐵.更貼心」的全新感受。
       交通部王國材次長表示,台灣高鐵今年與澳洲、香港團隊共同競逐ITS世界大會「產業成就獎」,最終脫穎而出,代表台灣在ITS產業發展的厚實基礎。
今年已是我國連續兩年勇奪ITS世界大會產業成就獎,分別是去年的高速公路ETC到今年的軌道運輸台灣高鐵,象徵台灣政府及產業以系統性及全面性推動智慧運輸。台灣豐沛的ICT人才及蓬勃的ICT產業,更是台灣推動智慧運輸發展的溫床
。
       王次長強調,
「智慧運輸」是蔡英文總統以及林全院長揭示智慧運輸、軌道運輸及寬頻網路的三大交通骨幹政策要項,台灣高鐵此次獲獎,突顯落實「智慧運輸」及「軌道運輸」二項重要政務之意義非凡
。
政府及整個台灣社會都樂見台灣高鐵榮獲此項世界級大獎的肯定,更希望未來積極推動台灣智慧運輸成為具有全球競爭力的產業,並將成功經驗與國際分享
。
       台灣高鐵以「台灣高鐵智慧運輸服務系統」榮獲2016ITS世界大會名人堂產業成就獎。獲獎主旨重點在五個子系統的智慧化運用的卓越表現:「智慧化列車運行管理」(Smart Train Operation)、「智慧化安全與應變管理」(Smart Safety & Emergency Management)、「智慧化訂位購票服務」(Smart Ticketing System)、「智慧化旅客服務」(Smart Passenger Service)、「智慧化旅遊資訊服務」(Integrated i-Traveling Information),突出於國際社會。讓旅客從訂位購票、進站乘車、營運安全、線上購物(T Shop)以及轉乘接駁,全程享受智慧運輸帶來的便捷、舒適與安全的優質高鐵服務。
    

全球交通運輸學界盛會「第14屆世界運輸研究大會」(World Conference on Transport Research, WCTR) 於7月10至15日於上海同濟大學盛大舉行,此國際會議自1977年起每三年舉辦一次,本次會議有超過1,170篇投稿文章,來自超過65個國家的產政學研專家共同與會。WCTR是由交通運輸學界創立,主要目的是提供一個溝通交流的平台,邀請來自世界各地的運輸相關領域專家,共同激發思考運輸領域的理論及應用研究、多元創新發展與深度交流。土木系張學孔教授、先進公共運輸研究中心陳雅雯執行長、陳清宜助理合作的論文"Motorcycle Management Policy in Taiwan: From Dilemma to Reality"獲得大會最佳論文獎(Best WCTR Paper on Transport in Developing Countries)。
    

土木系張學孔教授(右)在世界運輸研究大會會場和校友吳政隆教授合影,吳教授為土木系畢業,目前任教于澳洲
NSW
大學,是國際知名的航空運輸專家。
【記者黃志偉/台北報導】隨著數位經濟的發展,藉由科技資訊服務平台創造新商務模式,可強化台灣產業競爭力、協助企業朝價值鏈中高端躍升。台灣經濟研究院於日前在台大國際會議中心舉辦「科技資訊分享服務產業政策論壇」,期透過產官學研獻策,更進一步促進科技資訊分享服務在台灣的蓬勃發展。
該論壇邀請新台灣國策智庫董事長吳榮義進行專題演說,強調新政府應構思如何進行資源配置以推動台灣創新能量;國家發展委員會副主委龔明鑫則於開幕致詞時特別強調,政府對新創事業的重視以及新商務模式如何有效融合既有產業的期許。
在分項議題討論上,91APP董事長何英圻探討台灣網路科技新創產業之優勢,分析台灣數位內容產業扮演整合虛擬及實體經濟的關鍵角色,並建議政府應挹注資源以協助新創企業投資未來;台經院博士連科雄探討分享經濟及平台經濟的全球發展趨勢,並歸納學理、實務、與各國發展策略提出機制設計應兼顧之面向;瀛睿律師事務所律師簡榮宗強調在新創事業的輔導及法規鬆綁上應協助國內企業取得資金、合理化稅制、建立法制與產業環境等,此為政府必須正視之課題;資誠聯合會計師事務所副所長吳德豐就新創事業管理法制的典範移轉上建議政府提供讓企業良性發展的平台及基礎建設,讓其自由成長與創新,交由市場引導,政府不宜「過度監管」。
而各個與談人在分項議題上亦給予諸多建議,創投公會秘書長蘇拾忠表示,台灣需要有獨立自主的產業,政府應扶植新創產業以使其成為高附加價值產業;台大土木系教授張學孔建議,分享經濟可成為協助偏鄉與弱勢之商務模式,但亦要注意到相關法規對其之約束是否阻礙其發展空間;交大管理學院院長胡均立建議對新興共享平台應加以規範,但須提供發展機會的方向,讓共享產業與既有網絡相互連結,使產業發展更完善;政大教授許牧彥則強調,政府即是一個共享平台,應做好後勤部隊領導的角色,以使人才具有開展事業的空間;台灣創意工場合夥人何明彥說明我們應定義清楚有價值的創新,引導中小企業去建立自行的生態系,而非過往供應鏈的思維;中央研究院資訊科學研究所研究員何建明分析,政府不應過度保護過去的產業,應站在協助但不涉入的角度去投資未來的產業。
針對如何運用系統性的執行策略改善中小企業經營環境,進而鼓勵及促進國際合作與交流,以使科技資訊分享服務產業與政策相互協調,台灣經濟研究院院長林建甫在論壇閉幕致詞時特別表示,新興產業及新興世代乃是創意密集導向,台經院亦將彙整科技資訊分享服務產業政策論壇之專家建言成為論文集出版,以作為政府日後施政的參考。
科技資訊分享服務產業政策論壇。左起連科雄主任、范秉航副所長、許牧彥教授、賈凱傑主任、吳德豐副所長、蘇拾忠秘書長、陳厚銘教授、龔明鑫副主委、吳榮義董事長、許士軍教授、張學孔教授、何英圻董事長、程九如秘書長。圖/業者提供
<議題一>台灣發展app/TMT/e-commerce等網路科技新創產業優勢。左起范秉航副所長、蘇拾忠秘書長、許士軍教授、何英圻董事長、程九如秘書長。圖/業者提供
<議題二>各國面對共享經濟與平台經濟趨勢之發展策略。左起賈凱傑主任、胡均立院長、陳厚銘教授、張學孔教授、連科雄主任。圖/業者提供
資料來源:工商時報(http://ctee.com.tw/News/View.aspx?newsid=33905&cat=2)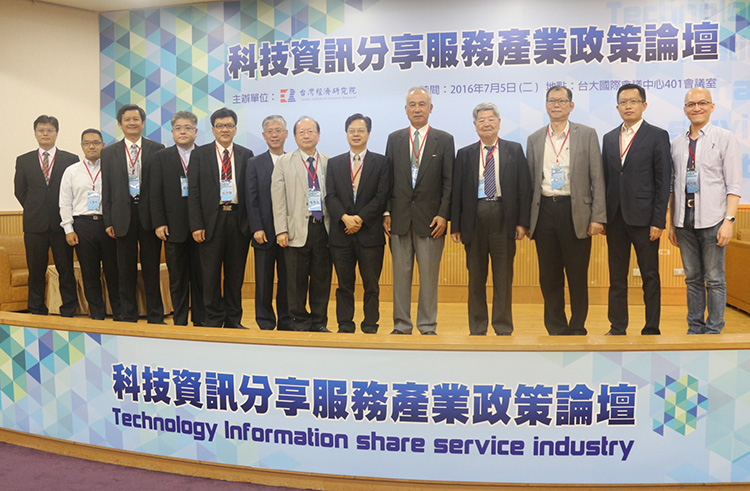 科技資訊分享服務產業政策論壇。左起連科雄主任、范秉航副所長、許牧彥教授、賈凱傑主任、吳德豐副所長、蘇拾忠秘書長、陳厚銘教授、龔明鑫副主委、吳榮義董事長、許士軍教授、張學孔教授、何英圻董事長、程九如秘書長。
【台北訊】隨著數位經濟的發展,藉由科技資訊服務平台創造新商務模式,可強化台灣產業競爭力、協助企業向價值鏈中高端躍升,為其創造新商機。台灣經濟研究院7/5於台大國際會議中心舉辦「科技資訊分享服務產業政策論壇」,邀請新台灣國策智庫吳榮義董事長進行專題演說,強調新政府應構思如何進行資源配置以推動台灣創新能量,國家發展委員會龔明鑫副主任委員則於開幕致詞時特別強調政府對於新創事業的重視以及對平台經濟新商務模式如何有效融合既有產業的期許。
科技資訊分享服務產業政策論壇現場產官學研雲集,在分項議題討論上,91APP何英圻董事長探討台灣網路科技新創產業之優勢,分析台灣數位內容產業扮演整合虛擬及實體經濟的關鍵角色,並建議政府應挹注資源以協助新創企業投資未來;台經院連科雄博士探討分享經濟及平台經濟的全球發展趨勢,並歸納學理、實務、與各國發展策略提出機制設計應兼顧之面向;瀛睿律師事務所簡榮宗律師強調在新創事業的輔導及法規鬆綁上應協助國內企業取得資金、合理化稅制、建立法制與產業環境等,此為政府必須正視之課題;資誠聯合會計師事務所吳德豐副所長就新創事業管理法制的典範移轉上建議政府提供讓企業良性發展的平台及基礎建設,讓其自由成長與創新,交由市場引導,政府不宜「過度監管」。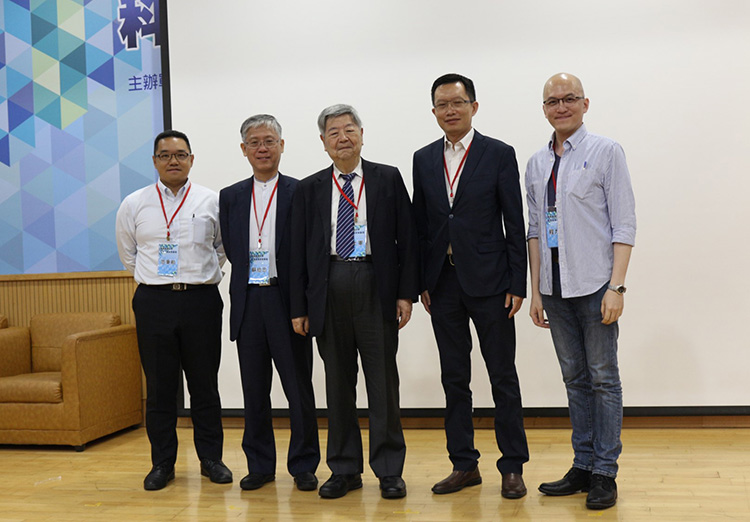 <議題一>台灣發展app/TMT/e-commerce等網路科技新創產業優勢。左起范秉航副所長、蘇拾忠秘書長、許士軍教授、何英圻董事長、程九如秘書長。
而各個與談人在分項議題上亦給予諸多建議,創投公會蘇拾忠秘書長表示台灣需要有獨立自主的產業,政府應扶植新創產業以使其成為高附加價值產業;台大土木系張學孔教授建議分享經濟可成為協助偏鄉與弱勢之商務模式,但亦要注意到相關法規對其之約束是否阻礙其發展空間;交大管理學院胡均立院長建議對新興共享平台應加以規範,但須提供發展機會的方向,讓共享產業與既有網絡相互連結,使產業發展更完善;政大許牧彥教授則強調政府即是一個共享平台,應做好後勤部隊領導的角色,以使人才具有開展事業的空間;台灣創意工場何明彥合夥人說明我們應定義清楚有價值的創新,引導中小企業去建立自行的生態系,而非過往供應鏈的思維;中央研究院資訊科學研究所何建明研究員分析政府不應過度保護過去的產業,應站在協助但不涉入的角度去投資未來的產業。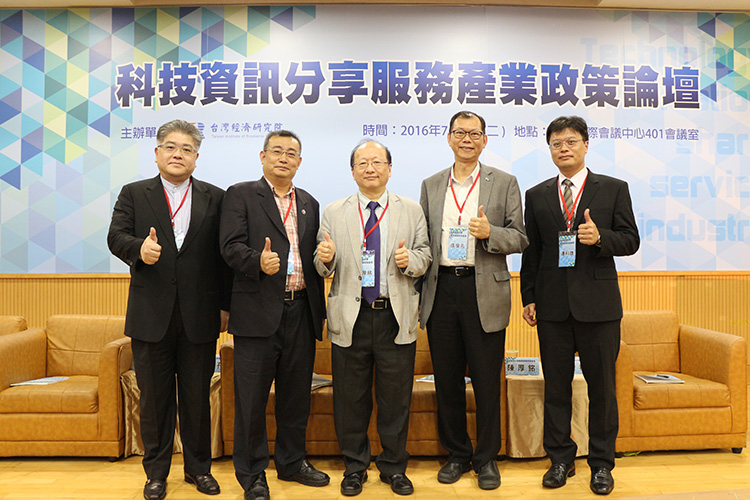 <議題二>各國面對共享經濟與平台經濟趨勢之發展策略。左起賈凱傑主任、胡均立院長、陳厚銘教授、張學孔教授、連科雄主任。

針對如何運用系統性的執行策略改善中小企業經營環境,進而鼓勵及促進國際合作與交流,以使科技資訊分享服務產業與政策相互協調,台灣經濟研究院林建甫院長在論壇閉幕致詞時特別表示,新興產業及新興世代乃是創意密集導向,台經院亦將彙整科技資訊分享服務產業政策論壇之專家建言成為論文集出版,以作為政府日後施政的參考。
新聞來源:UDN聯合新聞網(http://udn.com/page/topic/4843)